Exfoliation can help your skin appear younger and brighter, and help heal dry flaky patches.
Why use body scrub?
Our body scrub is a real moisturizing treat for your hands, feet, and body.

The salt scrubs and exfoliates, while the oils deeply moisturize your skin. Your skin will feel incredibly smooth, less itchy, and you'll be able to feel the difference.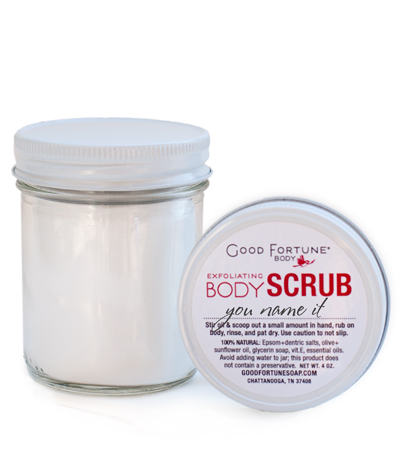 How To Create Your Own Scent:
(Online) Simply use our drop down menu to select your favorite essential oils or fragrances. 1-4 scents per jar is recommended.
(In-store) Come sit at our bar, and let us help you mix the perfect body scrub for fall.
Scents Trending Now:
Rose + Lavender
Applejack + Pumpkin + Vanilla
Vanilla + Peppermint
Oatmeal Honey + Coconut + Vanilla
Browse our fragrance collection for more inspiration!