If you are in need of a moisturizer, our green tea face cream is just the thing for you!
Whether you have dry, oily, or combination skin, you need to moisturize your face. Moisturizer balances the oils on your skin, it fights wrinkles, and it reduces blemishes/acne! For those of us with oily skin, it may seem counterintuitive to use moisturizer. Moisturizer would just make your skin more oily, right? Wrong! If you are not using a moisturizer, your skin will begin to produce more oils in order to compensate for its lack of moisture. This is why you must use moisturizer in order to have healthy, balanced skin.
---
WHAT IS IT?
Our green tea face cream is a natural, lightweight moisturizer. It's non-greasy and dries quickly while giving your skin intense hydration!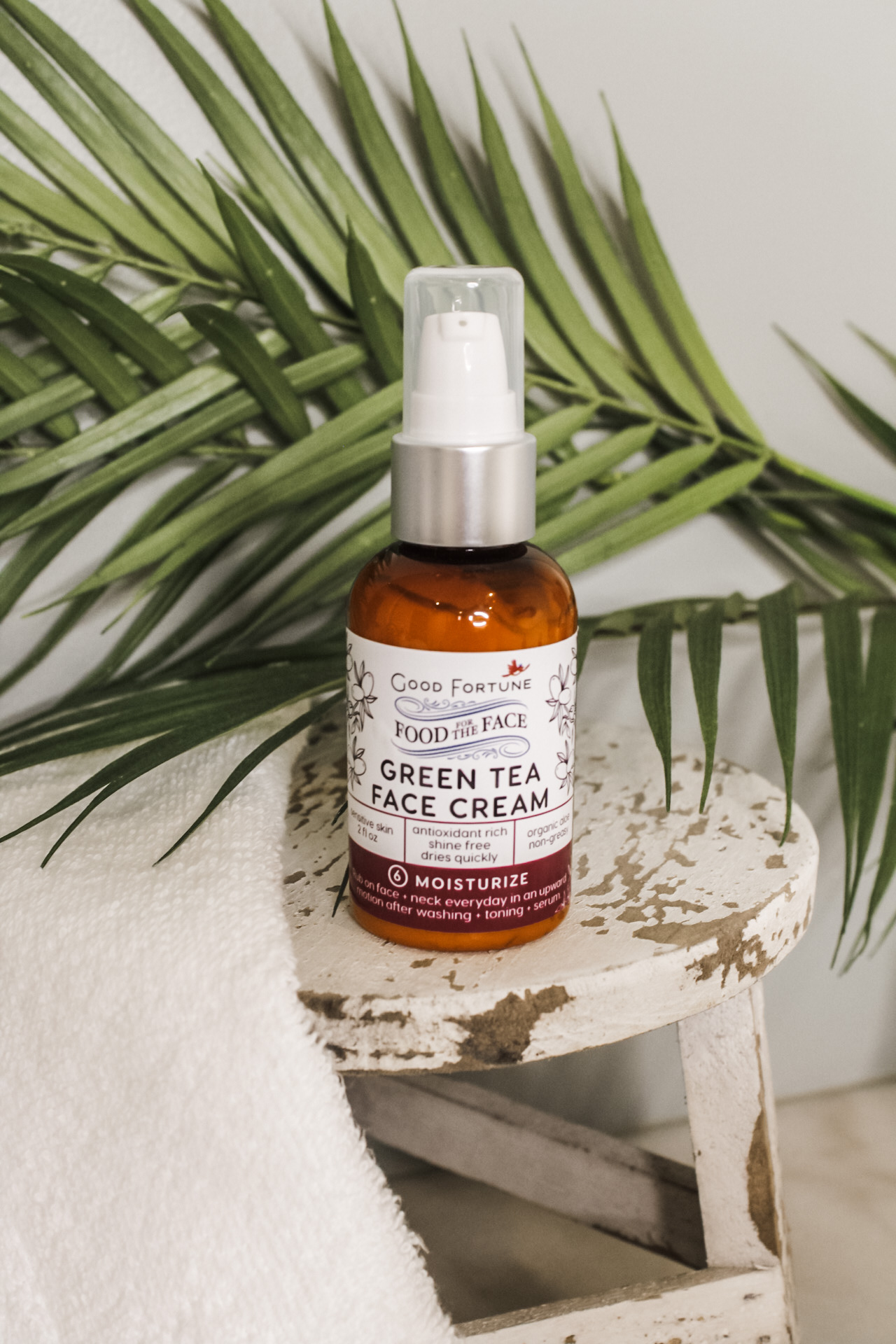 WHAT'S IN IT?
Organic Green Tea Extract: A powerful antioxidant that protects your skin from premature aging, UV damage, redness, and irritation.
Organic Aloe Leaf Juice: Anti-inflammatory, antioxidant, smoothing, protective, soothing, and hydrating.
Essential Fatty Acids: Hydrating, skin loving oils that are absorbent and will not clog pores.
Organic Coconut Oil: Antibacterial, anti-fungal; includes nourishing fatty acids that contain vitamin E.
WHO IS THIS FOR?
Green tea face cream is made for all skin types, but is specially formulated for sensitive, oily, and acne prone skin because it delivers intense moisture without clogging your pores! It's also great for oily skin as it does not leave a greasy film. If your skin is on the drier side, you may want to opt for a moisturizer with even deeper hydration like our antioxidant face cream, especially during the winter months!
HOW IS IT USED?
Apply your face cream to your face and neck after cleansing, toning, and using serums in the morning and at night. Consistent use will promote healthy, balanced skin!
---
Our green tea face cream is a much loved product at Good Fortune for all its hydration benefits!
Many customers at Good Fortune use this face cream and have experienced skin transformations.
"This moisturizer is perfect for my sensitive skin. It is light and gentle enough for me to use every day. It goes on smoothly and lasts all day."
"If you want the best products for your face you just found them. Good Fortunes Food for the Face is truly that. After trying hundreds of products over the years I have stumbled upon the perfect combination of skin care...and it's made right here in our precious America in Chattanooga Tennessee! The Green Tea face cream is no more awesome than any of the other products found here. If you want to treat yourself, stop in and see for yourself."
"Not drying....and helped clear my skin up!"
- Real Reviews From Real Customers

Shop this product at our store on Broad Street or online!