Our top plant-based, anti aging skin care
Did you know...
You can fight signs of anti aging right from the comfort of your own home? Many of our fragrance-free, easy-to-use products contain ingredients to help reverse wrinkles and provide anti-aging protection for your skin.
Many people think that anti aging products are for those who are already showing signs of aging – but it's quite the opposite! Getting into the habit of following a good, preventative anti aging skincare routine can save you money, time, and stress in the future!
Of course, it's never too late to start. Let's introduce some of the best skin care for anti aging. There are 2 easy ways to start your anti aging journey.
Begin Your Anti Aging Journey
Step 1 - Identify anti aging ingredients that cater to your specific concerns: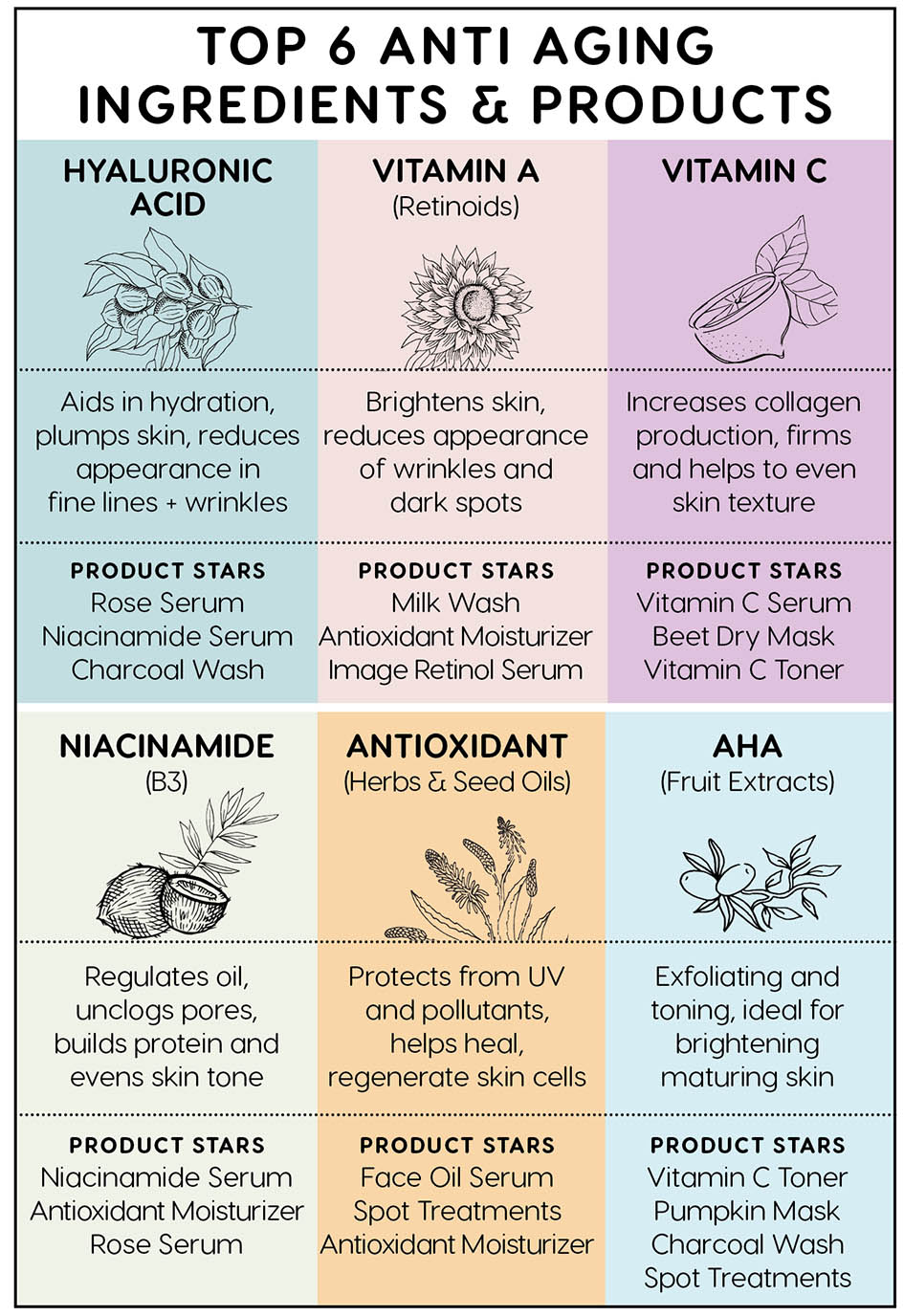 AHA's
Dissolves dead skin cells and the buildup of excess oil within the skin.
This is beneficial for anti aging because every day we shed thousands of dead skin cells that can settle into our fine lines and wrinkles, making them appear much deeper than they actually are.
We suggest this anti aging skin care cleanser
Milk Brightening Wash - contributes to a healthy complexion with the use of AHA's in one of the main ingredients: milk powder.
Vitamin C
Helps to promote healthy collagen production by repairing the skin's tissue, formation of collagen, and smoothing the skin's texture. It is one of the most used products to reverse the effects of sun damage and aging.
We suggest this anti aging toner
Our Vitamin C Toner refreshes the skin and contains the vital anti aging skincare component.
PRO TIP: Spray Vitamin C Toner all over the face after cleansing and apply your moisturizer and serum of choice to damp skin. This helps the product penetrate into the skin better and allows the products to effectively melt into the skin. It feels great too!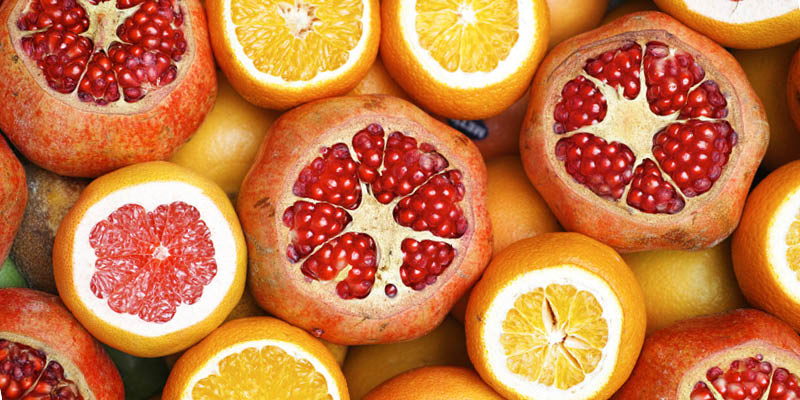 Antioxidants
Help to protect the skin from environmental damage that causes signs of aging. This could be sun damage that causes hyperpigmentation, air pollution that clogs pores, or smoking that damages the skin's healing process. Antioxidants neutralize and fight off these effects on the skin preventing and even reversing the damage, helping to promote healthy collagen production, brighten complexion, and nourish the skin.
We suggest this anti aging cream
Our Green Tea Moisturizer is an antioxidant rich anti aging cream with ingredients such as green tea, olive oil, coconut oil, all very rich in antioxidants that are perfect for anti aging and oily skin.
If your skin is more on the dry side, consider our Antioxidant Moisturizer as your anti aging cream
Vitamin A (retinoids)
Helps speed up our cell turnover rate and promotes healthy skin cell production. As we age, our skin begins to lose its elasticity that it once had with the healthy skin cells. When we apply Vitamin A, we are reviving our skin and creating baby fresh skin cells that are smoother in texture, plumper, and brighter.
We suggest this anti aging serum
Our Image Retinol Crème is a great anti aging serum that can be applied to the skin on top of your moisturizer. It has polypeptides in addition to retinol that help to soothe and hydrate the skin, making it the best serum for anti aging.
Niacinamide
Helps to regulate oil production and unclog pores, ultimately creating a more even skin tone and texture.
We suggest this anti aging serum
Our Niacinamide Serum is another anti-aging serum that is chock-full of hyaluronic acid goodness.
PRO TIP: Pop this on underneath a moisturizing night cream for ultimate overnight hydration!

Hyaluronic Acid
Reduces appearance of fine lines and wrinkles by hydrating and plumping skin. Since hydration is the answer to almost any skin concern, hyaluronic acid is certainly a top performer.
We suggest this anti aging serum
Our Rose Serum a great anti aging skincare staple works to strengthen the skin's barrier resulting in fewer fine lines and wrinkles.
Visit Our Facial Spa
Step 2 - Get professional help
You don't have to do everything yourself. Regular visits to our Chattanooga Spa can make your anti aging journey even easier. Estheticians have all the tools and experience to cater to your specific skin type and make sure that your skin is getting the best skin care for anti aging. Getting facials and becoming well-acquainted with your esthetician will play a very big role in your anti aging journey. Allow them to offer you support and cheer you on!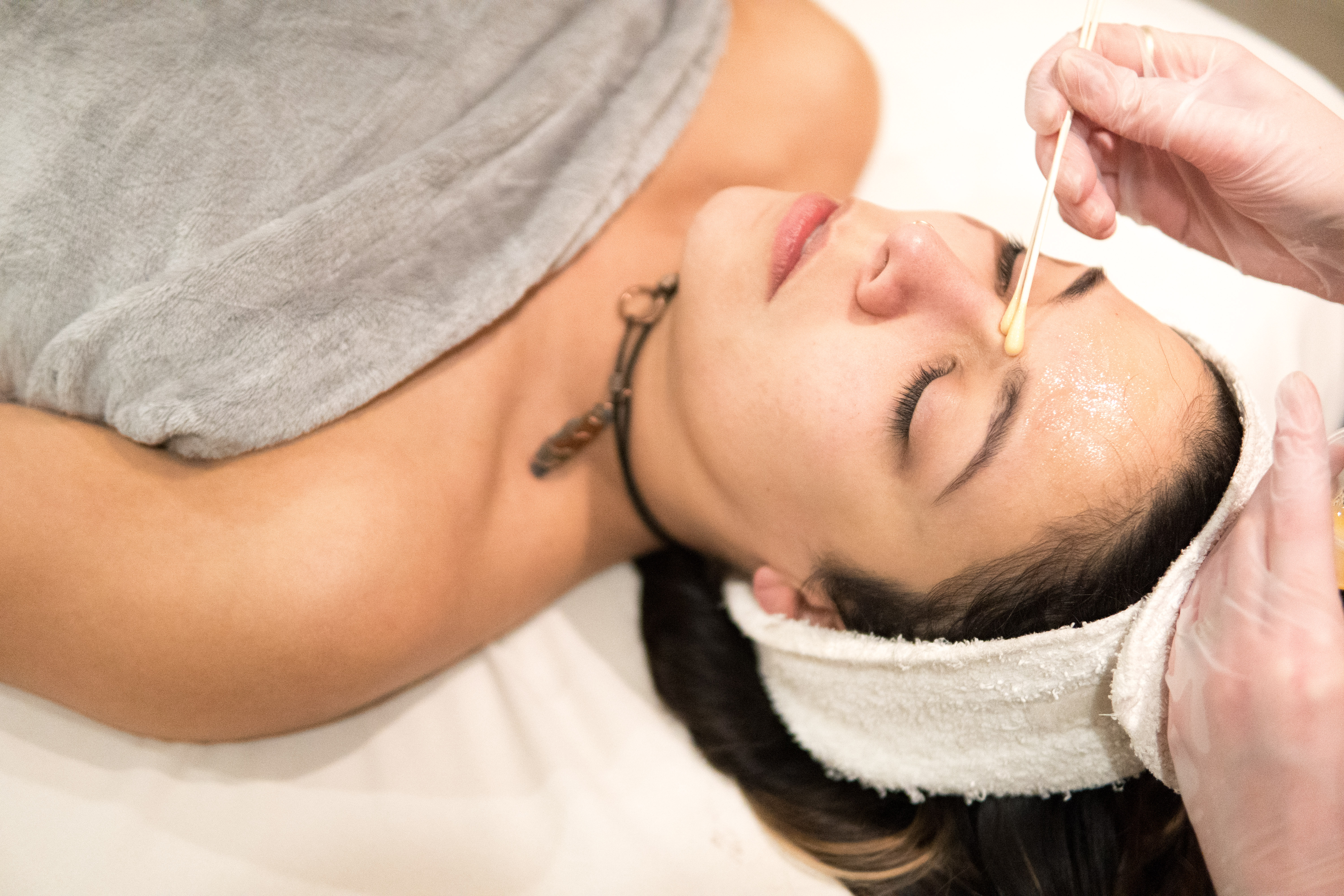 Take a look at the services we offer at our Chattanooga Spa and book an anti aging facial with an expert today!
So, the answer is yes, you can skip the expensive, time-consuming appointments and surgeries. Start taking care of your skin now – the easy way!
PRO TIP: Do an in-depth anti aging skincare routine at night to give your skin the chance to fully absorb and take advantage of all the great anti aging benefits in your products!