Dermaplaning: the skincare trend that's taking the world by storm!
By now you've probably heard of it, but if not… prepared to be amazed. Dermaplaning is an advanced exfoliation technique that uses a blade tool to remove facial hair (peach fuzz) as it gently scrapes the outermost layers of your skin. It will take your skincare game to the next level.
Lucky for you, your local Chattanooga spa now offers Dermaplaning as an add-on to our already amazing facials.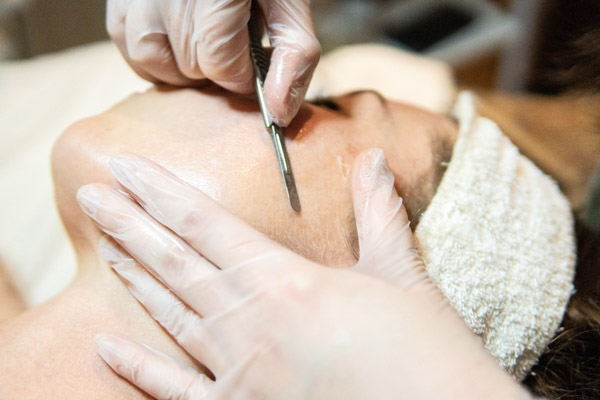 Why Dermaplaning?
Dermaplaning benefits your skin in many ways. It improves texture and complexion and gives you smoother skin & makeup application. Because it gently removes the outer layer of the epidermis, Dermaplaning allows for deeper product penetration. This gives even better value to every facial you get because it boosts their effectiveness. In our opinion the Dermaplaning add-on is a non-negotiable!
How to choose the best Dermaplaning facial for you?
Dry skin
If you struggle with natural dry skin, we recommend choosing the Vitamin C Facial. This facial is designed to hydrate and brighten skin so Dermaplaning helps the vitamin C reach deeper into your skin allowing for even more hydration. Which then leaves your skin glowing!
Oily skin
You're not alone if you have naturally oily skin! When scheduling a facial we recommend the Express Pumpkin Facial. Dermaplaning and this facial work well together as they gently remove bacteria and grime from the top layer of skin and below it. Your skin's texture will change like night and day.
Aging skin
One of the most common skin issues people want to combat is aging. If you have aging skin we recommend going for the Oxygen Facial. Dermaplaning alone helps to prevent wrinkles so adding it to the Oxygen Facial, which refreshes and revitalizes your skin, results in a match made in skincare heaven.
Pigmentation
Pigmentation is a skincare struggle that many people face. Our Restoring Facial uses hyaluronic acid and retinol to rejuvenate and repair aging, brown spots, and acne-prone skin. When combined with Dermaplaning, which reveals brighter skin and shrinks dark spots, your hyperpigmentation issues will diminish.
Sensitive skin
Don't worry, we have a recommended facial for those with sensitive skin too! Our Balancing Enzyme Facial is a gentle cleansing treatment where your skin will be infused with antioxidants and vitamins. Dermaplaning for sensitive skin is a great way to gently exfoliate without an aggressive cleanser. Doing this in addition to our Balancing Enzyme Facial will provide incredible results.
How often should I get it done?
In addition, Dermaplaning is recommended every 3-4 weeks, and thankfully we have a wide range of facial options for you to choose from so your skin can get just what it needs without being overworked.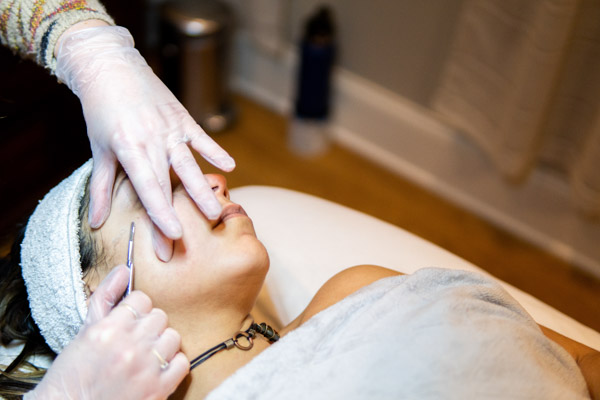 Who is it for?
Dermaplaning is for all ages! Since this service simply removes dead skin cells and dirt, it is a great add-on for anyone looking to see a fresh glow on their skin.
However, we do not recommend this add-on for those who struggle with severe acne as it could do more harm than good. However, we do offer other add-ons that would benefit this skin type. On the other hand, Dermaplaning is such a gentle procedure that it is a great addition to your facial whether you have oily, dry, combination, or normal skin.
Where can I sign up?
Right here! Book your appointment now at Chattanooga's Best Spa and see what Dermaplaning has to offer!