Good Fortune's
Helpful and Hydrating

Face Oil Serum
Grapeseed, cranberry seed, and pomegranate seed oils mixed with neroli essential oils are full of essential fatty acids and antioxidants to plump skin, treat lines, and boost radiance. Together they are ultra-nourishing, and absorb quickly enough to work beautifully under makeup. Along with super-soft happy skin, it leaves a light gorgeous neroli and orange essential oil scent.
Why do I need a face oil?
It leaves any skin type (including sensitive, aging, and acne-prone) hydrated, nourished, and radiant. It improves elasticity, and leaves skin with a luminous glow.
What is in your face oil?
Our face oil serum is made with 11 flower and plant oils, from Neroli Essential Oil (helps with spots), Organic Pumpkin Seed (reduces inflammation), Cranberry Seed (full of fatty-acids), Grapeseed Oil, Pomegranate Seed Oil, Marula Oil, Baobab Seed Oil, Vitamin E, Sunflower Seed Oil, Organic Jojoba Seed Oil, Organic Borage Seed Oil, Organic Sweet Orange Peel Oil and Calendula Flower CO2 Extract for glow and moisture. It also smells amazing! Synthetic and mineral oils clog pores, most natural plant oils do not.
But will it make me break out?
No matter your skin type, try our face oil serum and you'll see healthy benefits right away. Face oils are naturally packed with ingredients like antioxidants and omega fatty acids that sink right in unlike some moisturizers made with waxes that trap moisture out. Oils help your skin to breathe and absorb the nutrients from the oils.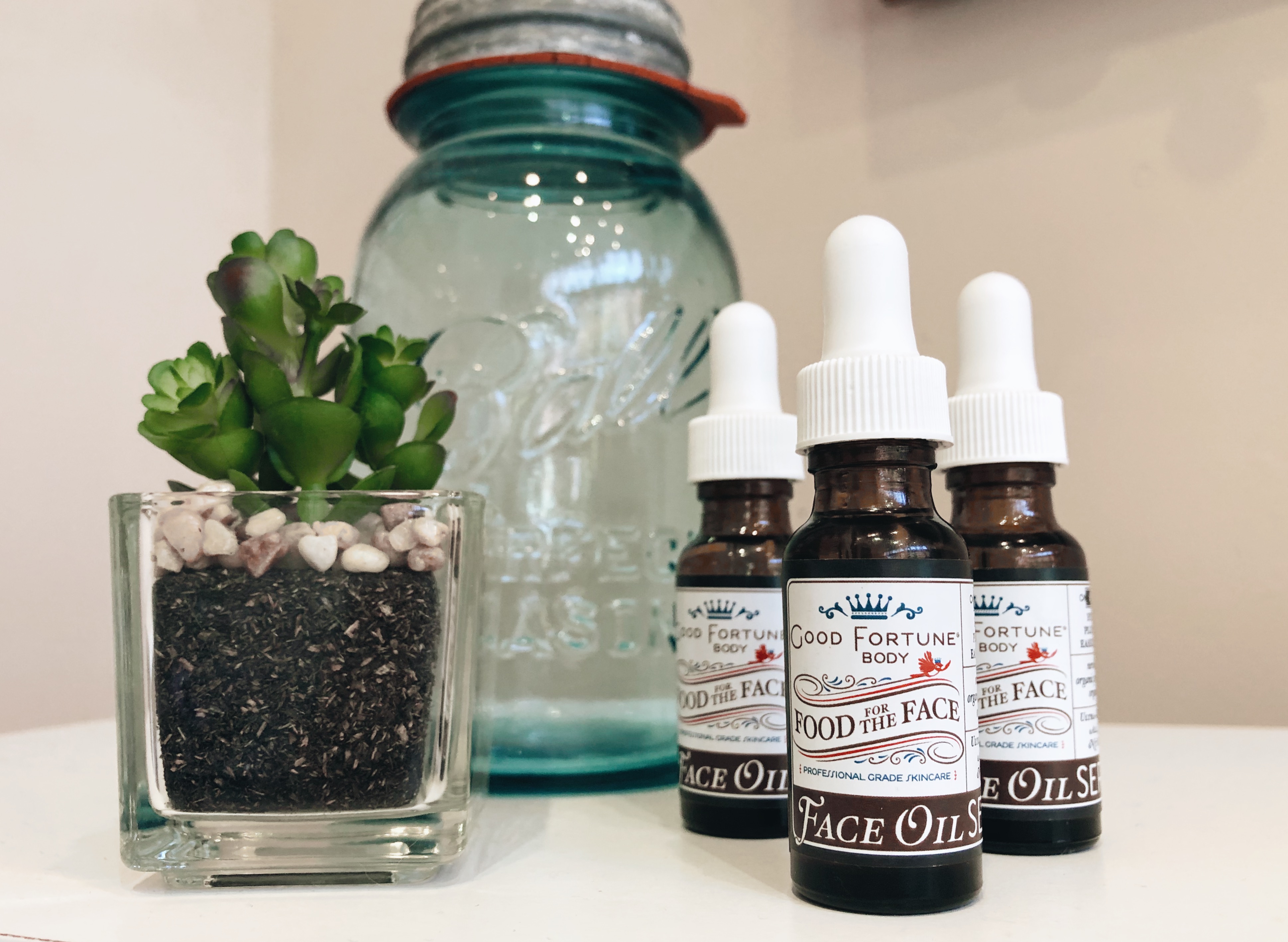 Can face oil help my dry skin?
Yes, for sure! Are you using retinols, astringent toners, or other drying anti-aging or anti-acne treatments? Face oil serum can help provide moisture and elasticity to your skin, and help smooth wrinkles and soothe irritated skin.
What if my skin isn't dry?
Even skin that's decidedly un-dry can also benefit from our face oil serum. Face oil can help clear pores of excess sebum, and can reduce inflammation and irritation.
Do I still need a moisturizer?
For dry & ultra dry skin types you'll want to massage in a few drops of our face oil serum, then use our Green Tea Face Cream or Extract Face Moisturizer morning and night, or apply liquid sunscreen. For normal & combo skin we do recommend you layer our Green Tea Moisturizer, but it really depends on the weather and how much serum you use. You may only want to use moisturizer at night.