Want to stay looking young forever? Then follow these tips!
Like it or not, everyone's skin ages. Years of UV exposure and environmental exposure can be taxing on your skin! But, luckily, there are ways to prevent premature aging and maintain your skin once it has reached a mature age.
What to Avoid
Tanning beds or long periods of sun exposure
UV rays penetrate your skin and actually damage the DNA in your skin cells! This can cause wrinkles, sun spots, and dryness.

Smoking
Cigarette smoke contains toxins that stresses your skin which causes wrinkles and dryness

Too much alcohol
Alcohol dehydrates the skin and drinking too much can actually trigger broken blood vessels and rosacea -- a skin condition that causes redness and pimple-like bumps. Enjoy your glass of wine, but avoid drinking too much!

Unhealthy foods
Studies have shown that women who eat more fruits and vegetables actually have less wrinkles than women who eat unhealthy snacks and high amounts of red meat. Try to eat foods that are high in antioxidant and ant-inflammatory properties!

Repeated facial movements
This may seem odd, but consistent frowning or pursed lips can be a sign of stress and can lead to wrinkles! Find ways to relieve your stress and in turn, protect your skin from wrinkles. Squinting often also falls into this category. Wear sunglasses when outside! 

What can I Do?
Luckily, there are many things you can do to protect and maintain your skin!
Wear Sunscreen
This is our #1 tip for maintaining youthful skin. You should wear sunscreen every single day, no matter if you aren't planning on being in the sun, if it's overcast, or if it's winter! UV rays can ALWAYS damage your skin, and it is proven that sun exposure causes wrinkles. Wear a sunscreen that is at least SPF 30 and a hat for extra protection when you are outside in the sun!

Use a moisturizer everyday
Moisture is ESSENTIAL for aging skin. It helps combat the dryness that comes along with aging skin and will give you a youthful glow!

Drink lots of water
Staying hydrated is also essential for keeping your skin hydrated. Drink at least 8 glasses of water a day.

Eat a healthy diet
What goes in your body usually shows on the outside. Eating well balanced meals full of fruits and vegetables can help with wrinkles and inflammation. 

Exercise
Exercising most days of the week boosts circulation and can improve the immune system, which will give your skin a youthful appearance! 

What Good Fortune Products Can I Use to Promote Youthful Skin?
At Good Fortune, we have many products dedicated to anti-aging, as well as products that are made specifically for drier, aged skin.
Face Oil Serum
This serum can work wonders on aging skin! While it can be used on all skin types, it specifically aids in the appearance of aging skin because of its hydrating and firming benefits. The serum contains antioxidant seed oils and pumpkin seed oil which help to tighten, firm, and regenerate the skin while preventing fine lines.

Antioxidant Face Cream
This is our most hydrating face cream made for aging skin! Containing retinol, a natural product of Vitamin A that is essential in anti-aging, this moisturizer provides deep moisture, prevents
fine lines, reduces age spots, and improves skin texture. 

Tight + Bright Spot Treatment
Made to revive aging skin, this spot treatment will brighten, tone, and rejuvenate dull skin! The Tight+Bright Spot Treatment can also prevent wrinkles because it contains lemon essential oil and rosehip oil.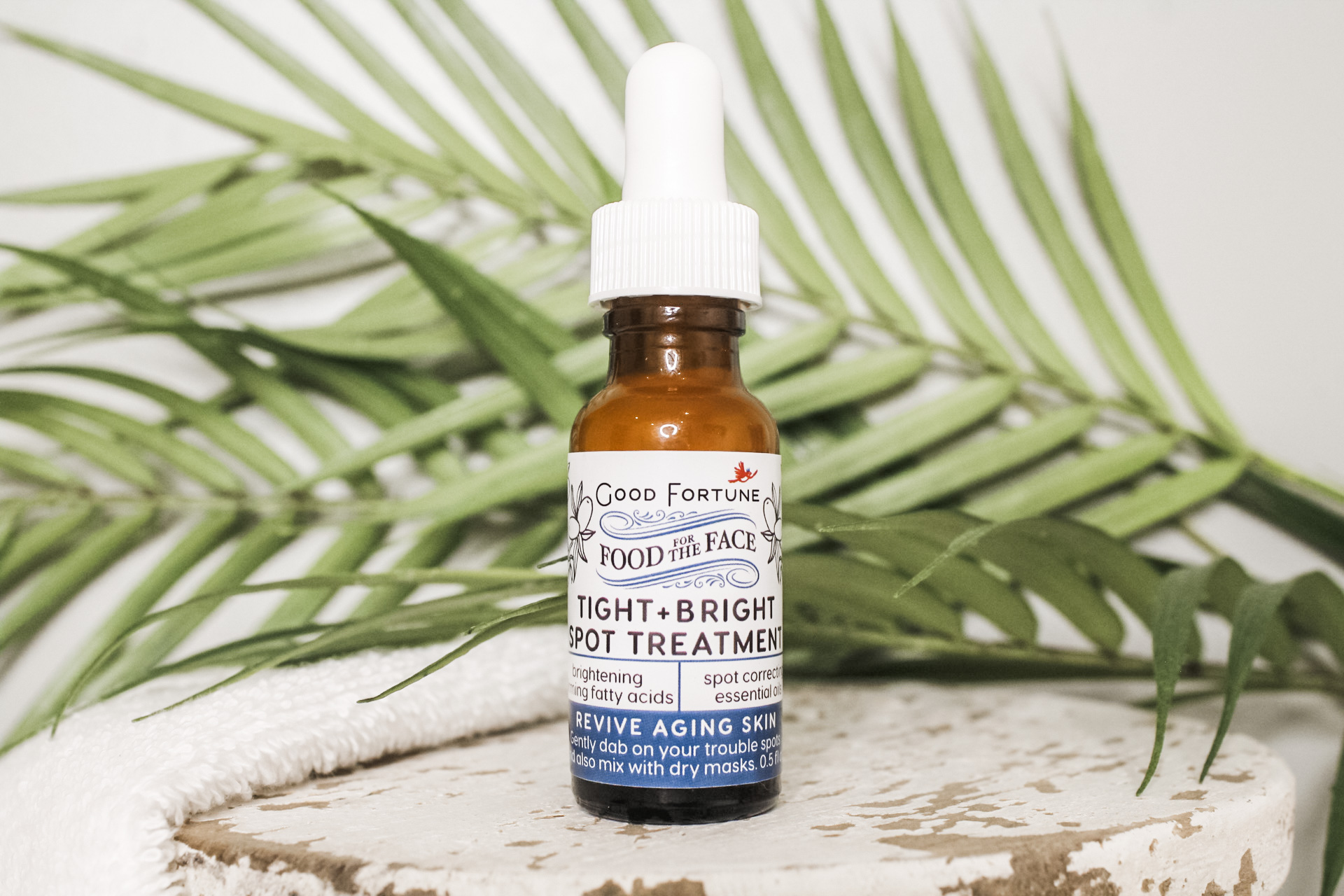 Image Skincare Sunscreen
Most important of all, sunscreen! Good Fortune has partnered with Image Skincare to provide a daily moisturizer sunscreen that prevents free radicals in the environment from damaging your skin and gives SPF 50 protection from the sun. This sunscreen contains Zinc Oxide, making it a mineral sunscreen, which is healthier for your skin. It's also available in a SPF 30 tinted moisturizer! These sunscreens are great for all skin types. 

Don't let the aging skin blues get in your way! By following our tips and tricks, you are sure to have healthier, more youthful skin and correct years of damage.
It's never too late to start caring for your skin! Start today by wearing sunscreen and moisturizing your skin. Little steps will bring big results.