Gift Sets a.k.a the best gifts ever are in full swing at Good Fortune.
In perfect timing for the upcoming holiday season, we recently launched more than 5 brand new sets and updated more than 15! However, gift sets aren't just great for this time of year but also birthdays, Mother's Day, Valentine's Day and just about every holiday in between! Or even as a "Just Because" gift!
Don't just take our word for it but listen to what Caitlin had to say about one of our Skin Care Gift Sets:
"I have finally found a face cleansing routine that WORKS! I could honestly feel and see a difference in days. I also Christmas shopped here for all my family members, such a great value and quality. I will continue to buy my face products here forever!"
Here are our Top 3 most recommended, all-natural Gift Sets that you need or need to give to someone you love right now!
Deluxe Essential Oil Gift Set
Do you smell that? That's the sweet smell of pure, therapeutic essential oils! Whether you're just getting started or a so-called professional oil user, this gift set is a must-have!
What's Included
Lemon Essential Oil: Most known for its popular uses around the kitchen, Lemon Essential Oil is also antibacterial, antiseptic, and detoxifying properties that sanitize objects.
Peppermint Essential Oil: It smells like candy canes and helps give you energy, focus, stress less, and eases aches.
Lavender Essential Oil: Arguably the most popular essential oil is Lavender, which is no surprise because it helps with relaxation, anxiety, depression, menstrual cramps, and has a physically and emotionally balancing effect on the body. Plus it can assist with calm, restful sleep!
Immune Boost Essential Oil Blend: Especially in times like this the Immune Boost Oil going to be your best friend.It kills germs, bacteria, viruses, mold, and fungi along with strengthening the immune system and guarding against infection.

Fractionated Coconut Oil: With many useful applications it is hard not to love Fractionated Coconut Oil. It can be used to dilute essential oil without changing their properties, a natural, eye makeup remover, moisturizer, and base for natural perfumes.
2 clear roll-on bottles: Create your own essential or fragrance oil blends in these 10ml glass roll-on bottles. The smooth plastic roller ball makes application of your oils easy.
1 1oz amber bottle: Great to use for a custom perfume or a convenient way to carry essential oil blends.
1 roll on travel sleeve:These protective silicone covers fit tightly and are perfect for traveling with your favorite essential oil blend.The adjustable strap creates an easy carrying case for your backpack or keychain.
1 diffuser necklace: These lockets are a cute addition to any outfit plus they offer aromatherapy with five felt pads for your essential oils. You can switch the scents on the pads and wash them with soap and water when you're ready to reuse.
Deluxe Gift Scent Set
If you really want to experience all the good fortune that Good Fortune has to offer, this gift set is for you! Complete with the most moisturizing and soothing body care products, you'll find this gift set is one-of-a-kind. It is customizable, too! You can choose from the Relax, Refresh or Restore scent collections.
What's Included
Faucet Soap: Helping your soap last longer the Faucet Soap hangs conveniently in your shower. Our natural, raw soap bars fit perfectly inside the mesh bag making it great for exfoliating, shaving, and polishing your skin.
Moisturizing Lotion: With this silky formula that is paraben & sulfate free, non-greasy, absorbs quickly it will be so easy to soak up our light & creamy vegan lotion for a more rebalanced and moisturized feeling on your skin. Plus, the shea butter leaves skin feeling incredibly soft.
Relaxing Salt Soak: Sit back and soak. Unwind in a hot bath with natural salts and minerals, mixed with calming essential oils.
100% Natural Body Oil: Let your skin be rewarded with our moisturizing and all-natural 3-in-1 bath and body oil. Body oil can be used as an everyday moisturizer, bath oil, massage oil, and shave oil. Our newly designed pump bottles ensure the recommended amount of product.
Exfoliating Body Scrub: Giving you incredibly smooth skin, our exfoliating and moisturizing salt scrubs will have your skin feeling softer in no time. Apply on cracked heels, cuticles, dry skin, and more!
Nourishing Lip Balm: Soft, silky shine and protection for even the most sensitive lips. A soft-supple-tingly treat for kissable lips.
Aches Care or Eczema care Gift Sets
What's Included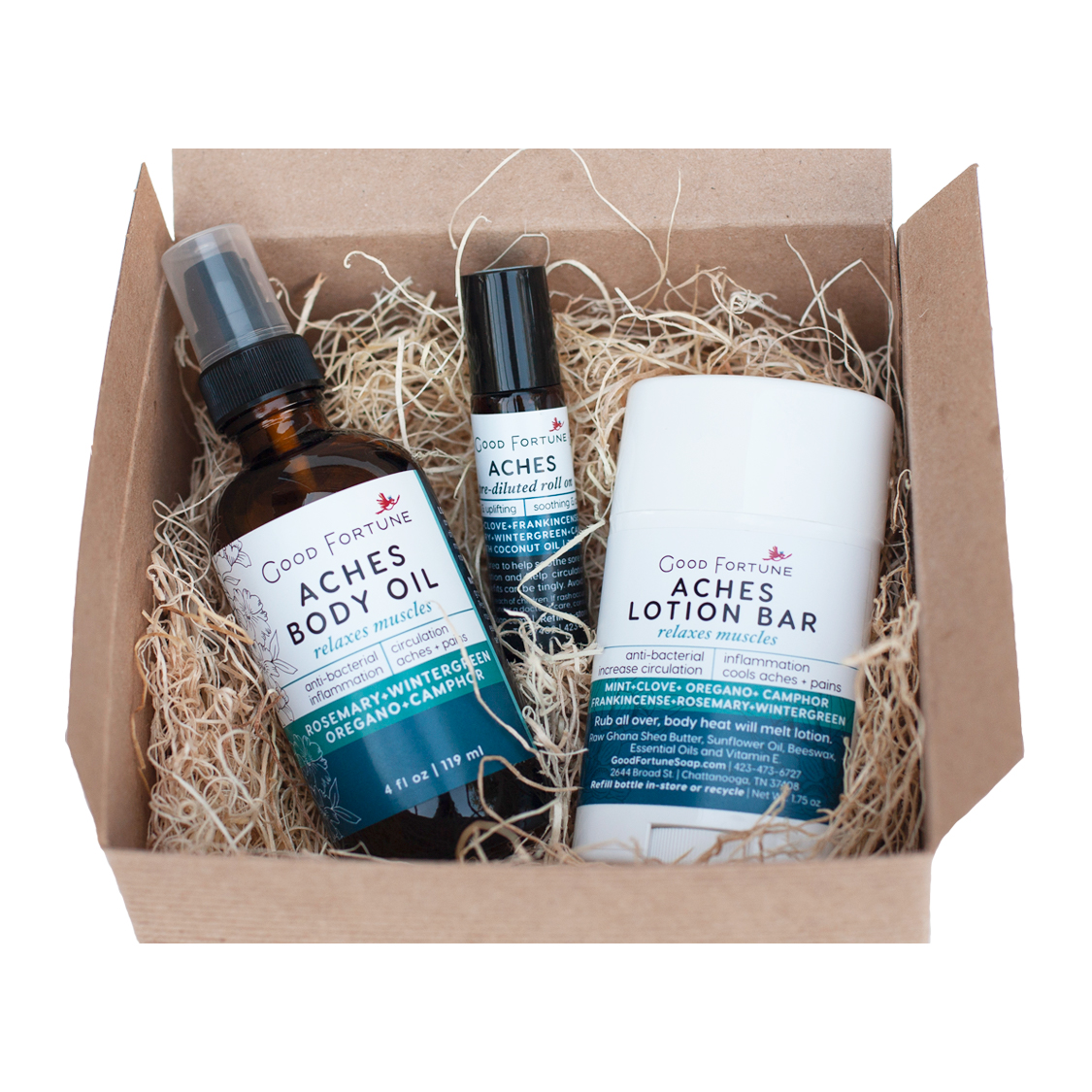 Aches Care
If you or someone you know is feeling the results of a tough workout or feeling strained from working a desk job, this gift set is the perfect addition to your daily life.
Aches Lotion Bar:It is extremely moisturizing and gives an overwhelming feeling of relief from aching muscles. Simple rub onto affected areas and let the soothing begin.
Aches Body Oil: Body oils help your circulation increase, as well as help decrease inflammation. While it cools and tingles, the Aches Body Oil it eases aches and pains.
Essential Oil Roll-On: Aches Roll-On helps soothe sore muscles, achy joints, along with helping improve circulation. Plus, the cooling benefits provide instant relief. Roll-on desired areas to help with inflammation and body aches.
Eczema Care
Those dry winter days are on the horizon. Get ahead and get the Eczema Care Gift Set for natural healing of your skin.
Eczema Body Oil: Moisturize and reward your skin with our all-natural, Eczema body oil. It is a daily moisturizer, natural bath oil, and massage oil that calms irritation and dry skin with tons of antioxidants.
Eczema Lotion Bar: The Eczema Body Oil not only moisturizes skin but also calms irritated areas by providing healing antioxidants to your skin. If psoriasis is a struggle, it can help that too!
Peace and Calm Spot Treatment: This serum is an antioxidant-rich serum formulated with lavender, frankincense and palmarosa essential oils blended with rosehip oil and organic hibiscus extracts to soothe symptoms such as rough skin texture, redness, puffiness, and stinging.
And as if these all-natural gift sets couldn't get any better, they are all available for gift wrapping! That is one less thing you'll have to worry about!! Now, take a deep breath, breathe in that aromatherapy and those pure essential oils… Good Fortune has you covered this holiday season and for every occasion in between. Shop our phenomenal gift sets now or come see us in store!