In the midst of a global pandemic, we all want to ensure that we are staying germ free as much as possible. This is why we created our own hand sanitizing spray that can be used on your hands AND on surfaces you touch! Double duty! This spray has worked wonders for keeping our store and store bathroom clean which is why we want to share it with you.
WHAT IS THE CDC SAYING?
The CDC recommends washing hands with soap and water whenever possible. This ensures that all germs on your hands are reduced. However, washing your hands after every time you touch something while you're out and about isn't always feasible. This is why hand sanitizer is so convenient!
WHAT MAKES GOOD FORTUNE'S HAND SANITIZER SO GREAT?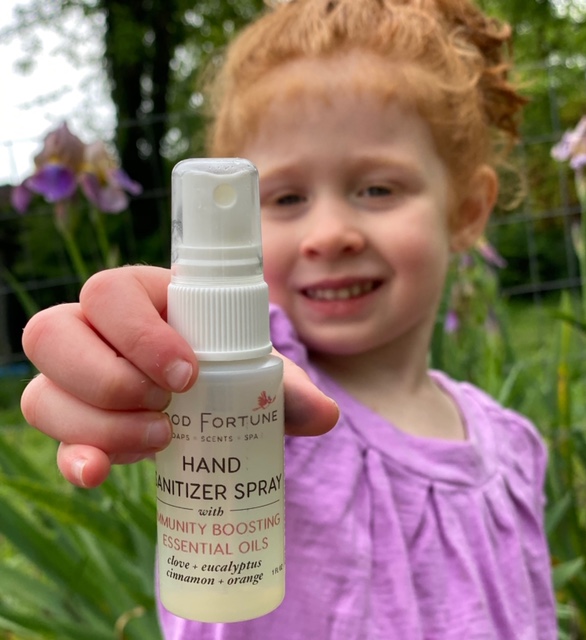 The CDC says that hand sanitizer must contain at least 60% alcohol in order to kill germs. Our hand sanitizer contains 80% plant based ethyl alcohol. We also added our immune boosting essential oil blend of clove, eucalyptus, cinnamon, and orange. Not only do these add a great smell to the sanitizer, but they also aid in killing germs, strengthening the immune system, and guarding against infection. This combination of ingredients makes our sanitizer much less drying than others on the market.
IT'S ALSO A SURFACE SANITIZING SPRAY?!
Yes! This spray is also great to use on surfaces to get rid of germs before and after you touch it.
We have asked customers to spray our bathroom surfaces with the sanitizer after they are finished using it. It helps our store stay extra clean so that YOU can enjoy shopping without worrying about germs! This is even a technique you can implement in your own home or business place!
If you are interested in purchasing our hand sanitizer spray, come to our Broad St. store or purchase online! Need more? No problem! Our hand sanitizer is refillable just like our other products in our store.
Stay safe and stay healthy!