Therapeutic essential oils are widely known for reducing anxiety, being anti-fungal, relieving aches and pains, boosting immunity, and many other restorative properties!
Blending essential oils together is the perfect way to combine many of these uses and make them into a single essential oil blend that addresses exactly what you need.
At Good Fortune, we have many essential oil blends for a handful of different problems-- from hormonal issues to allergies! These blends are available in pure oil form, which you can diffuse, or as a roll-on that is mixed with a carrier oil, so you can use it topically.
Here are all the essential blends we offer at Good Fortune and what pure oils they are made out of, plus, a few tips at-home tips for using essential oil blends!
Essential Oil Blends
Hormones Blend
Manage PMS and menopause symptoms.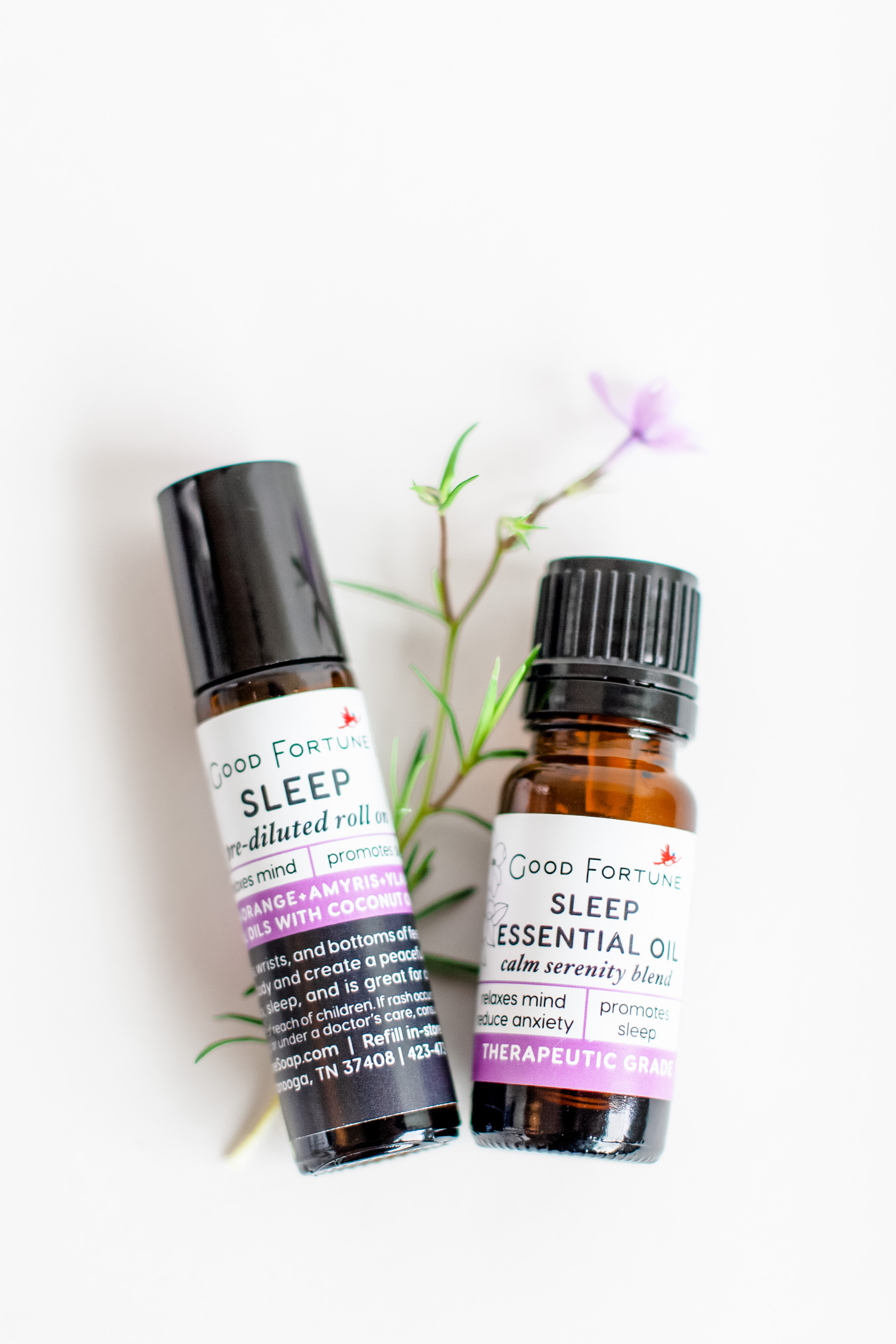 Lavender

Bergamot

Cedarwood

Ylang Ylang

Geranium
Stress Tension Blend
Soothes anxiety from mind and body.
Lavender

Lemon

Peppermint

Frankincense

Basil

Rosemary

Wintergreen
Sleep Serenity Blend
Helps you relax, have restful sleep, and treats insomnia.
Lavender

Orange

Amyris

Ylang Ylang
Muscle Aches Blend
Soothes sore muscles, achy joints, and inflammation.
Peppermint

Clove

Frankincense

Oregano

Rosemary

Wintergreen

Camphor
Immune Boosting Blend
Kills germs, bacteria, mold, and fungi while strengthening the immune system.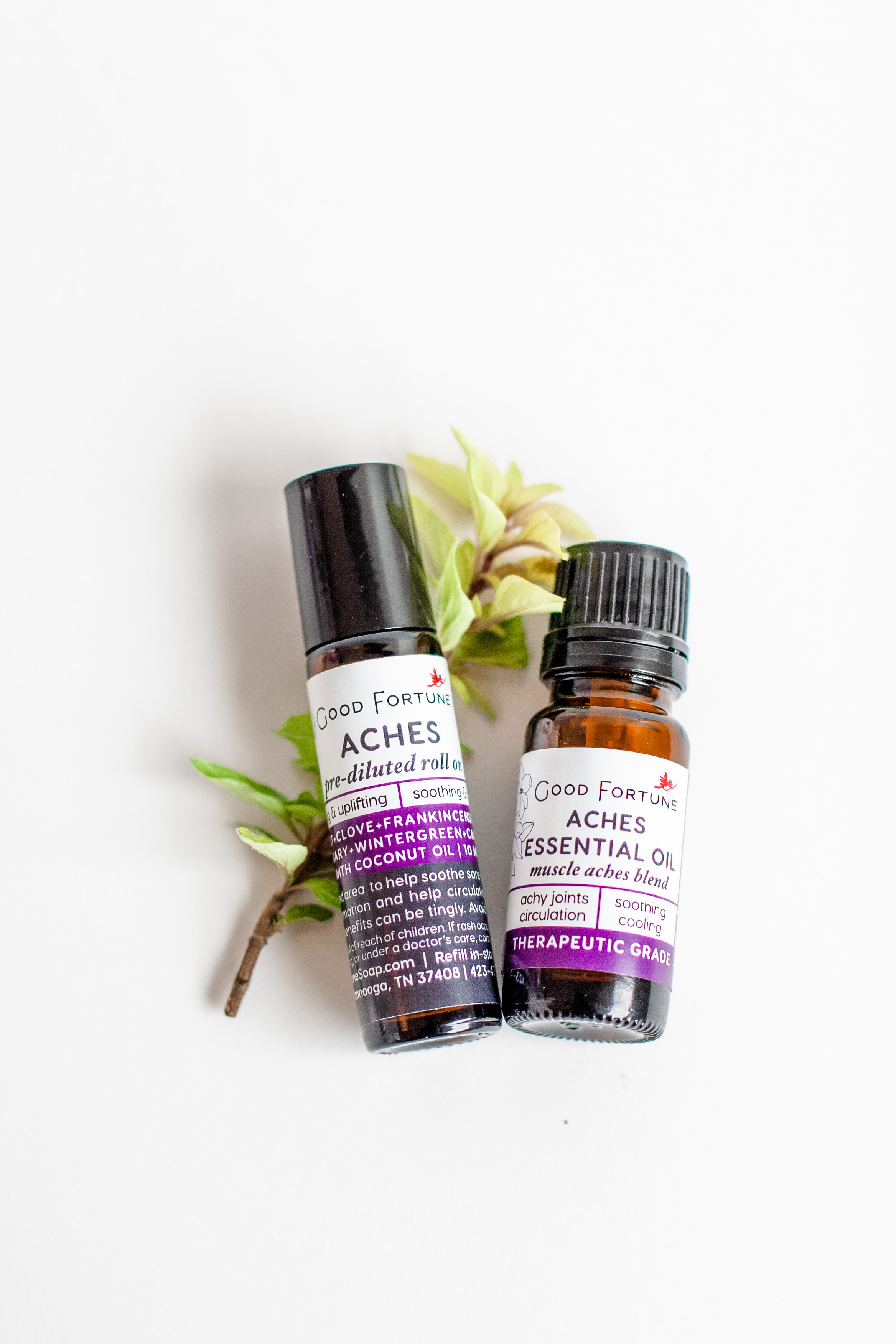 Clove

Orange

Rosemary

Eucalyptus

Cinnamon
Breathe Blend
Keeps airways clear and helps breathing during changing seasons.
Peppermint

Eucalyptus

Tea Tree

Lemon
Energy Blend
Promotes alertness and energy.
Peppermint

Lemon

Orange

Frankincense

Bergamot

Grapefruit
Headache Migraine Blend
Relieves headaches, migraines, and muscle tension.
Peppermint

Lavender

Wintergreen

Frankincense
Helpful Essential Oil Uses
Essential oils can also be mixed with other ingredients that you can find right in your kitchen to create some great, all natural products. Check out these cool recipes for helpful tips & tricks!
Homemade Mouthwash
2 cups boiled water

2-10 drops tea tree oil

1 tsp. Baking soda
For a Scratchy Throat:
1 cup of water

Lemon essential oil

Natural honey
Linen Spray
15 drops of Lemon essential oil

15 drops of Lavender essential oil

3 oz. rubbing alcohol or vodka

1.5 cups of distilled water
Essential oil blends are a therapeutic and natural way to address common health issues or enhance your at-home products ! You've seen what Good Fortune has to offer and what great tips & tricks you can use essential oil combinations for. There's a whole new world for you to discover in health and wellness essential oils!
Now that your interest has peaked, shop our healing essential oil blends and start your natural health and wellness journey!