Women across the world all ask the same question: How do we reduce fine lines and wrinkles?
Our new Microcurrent Treatment and Ultrasound Facial might just be the answer.
Microcurrent Facial Add-On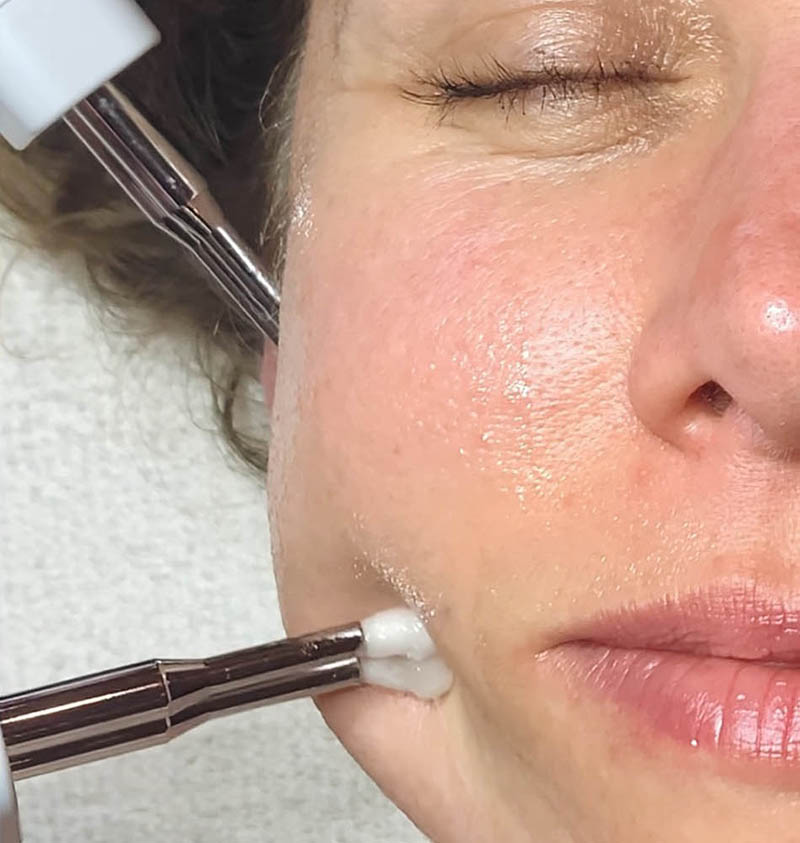 WHAT IS MICROCURRENT FACIAL?
Our Microcurrent Facial Add-On offers anti-aging skin rejuvenation that lifts and firms the muscles in the face while stimulating collagen and elastin.

This non-invasive microcurrent face lift helps your skin look smoother, brighter, and more rejuvenated in just one session.
HOW DOES MICROCURRENT WORK?
Microcurrent treatment uses low frequencies to mimic muscle contractions, tightening and firming your facial muscles.

Most clients describe this treatment as pain free, but many clients feel a "white noise tingle" during the treatment and experience some involuntary muscle spasms in their face and neck. For the most noticeable results choose our Ultrasound Facial Add-On as well.

Book A Microcurrent Facial:
$50 add-on to any facial spa treatment (Purchase a 3-pack for best results, SAVE $15)
Adds 30 minutes to any facial
Ultrasound Facial Add-On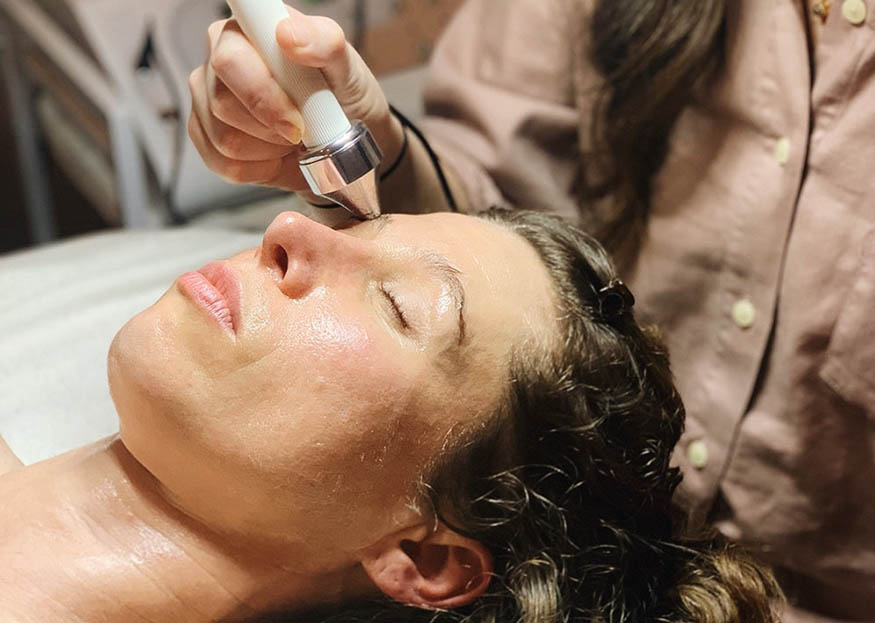 WHAT IS AN ULTRASOUND FACIAL?
An ultrasound facial is a nourishing, non-invasive, and painless anti aging skin care treatment. This anti-aging facial add-on is great for preventative anti-aging (20-40's) as well as restorative anti-aging for more mature skin.
HOW DOES AN ULTRASOUND FACIAL WORK?
An ultrasound facial relies on ultrasonic energy to penetrate deep below the surface of the skin, helping increase the creation of collagen, which is essential for firmer skin.
This ultrasound facial therapy promotes cellular renewal and repair, tones facial muscles, increases blood circulation, encourages lymphatic drainage, combats puffiness and swelling, and improves skin care product penetration.
Book An Ultrasound Facial:
$12 add-on to any facial spa treatment
Adds 10 minutes to any facial
HOW OFTEN TO REBOOK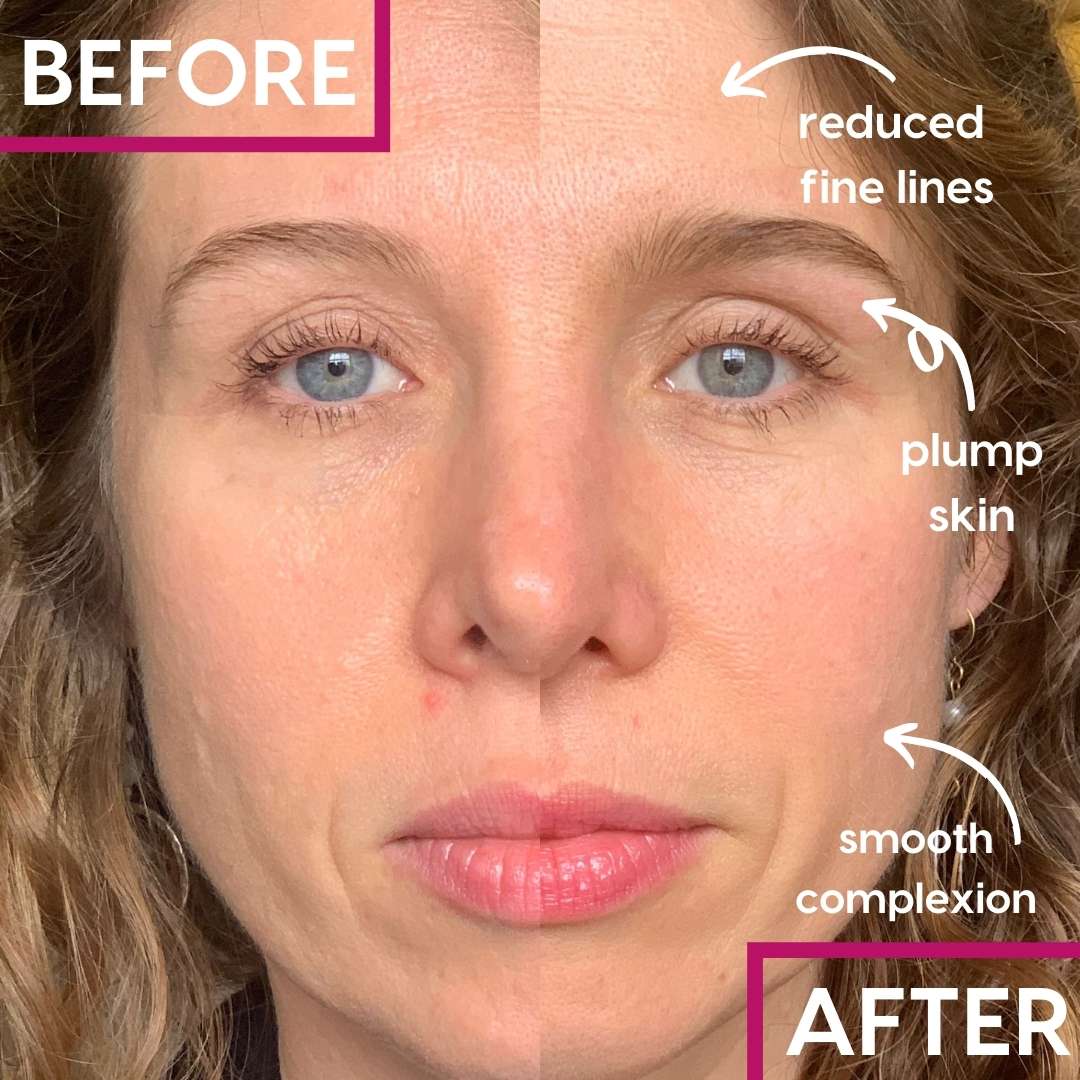 Clients in their 20s:
1-2x a month.
Clients in their 30s:
2-3x a month.
Clients in their 40s-50s:
every 2 weeks.
Clients 60s+:
3-4x a week
NOTE: Please consult with your physician before booking these services, especially if any of these medical issues apply: Pregnant, heart conditions, pacemakers, stints, epilepsy, active cancer patients, chemotherapy, metal implants, braces, diabetes, recent facial surgery-Botox-fillers, or severe acne. Your esthetician may recommend a different treatment at any time.
Curious if a microcurrent facial or ultrasound facial is right for you? Come in for a free skin consultation with our certified estheticians!