Making your house as cozy as possible hits differently in the autumn months. Though we love knitted throws, hot apple cider, flannels, and Halloween movies, we are most excited for Fall scented candles!
Aesthetically pleasing, delightfully scented, and naturally made-- your go-to fall decor just got upgraded. Now, cozy-up and find out more!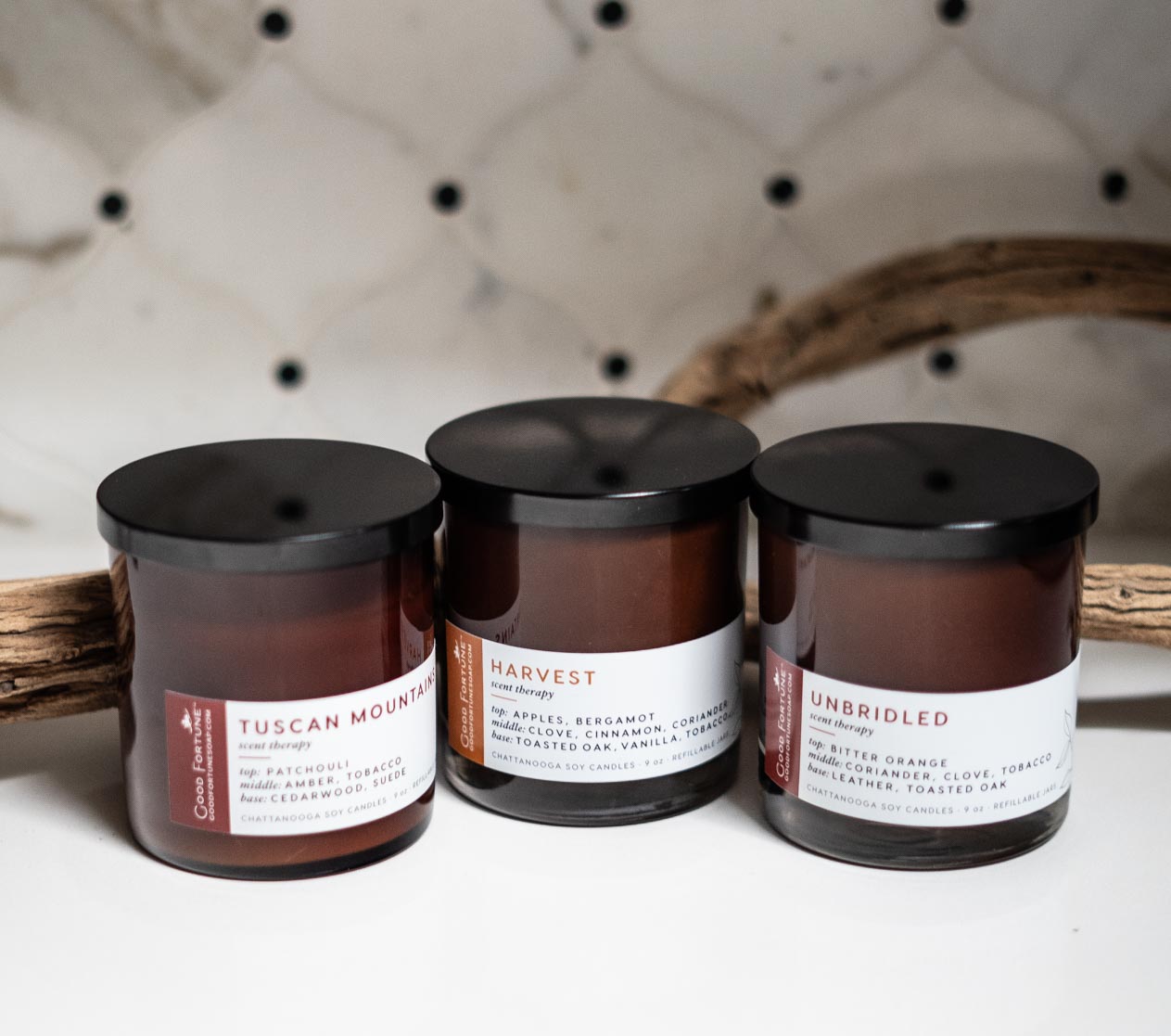 Our soy candles are packaged in gorgeous amber jars that immediately bring warmth to any room. The candles can be beautifully stacked on top of coffee table books with cute plants beside them or even stand alone in all their glory.
If you're candle obsessed like we are, our soy candle collections are a great addition to your autumn decor. But don't feel like candles are only a seasonal piece! Especially with scents as delightful as these, you'll want to burn candles all year round.
Fall Scents for Candles
For all our autumn lovers, these are for you - meet The Warm Collection!
If you're looking for Fall scents that give you all the fall feels, you've met your match. Light the Warm Collection as you snuggle up in your favorite sweater with a nice cup of cider. We recommend using these scented candles in your living room or other common areas!
Harvest Soy Candle:
The Harvest Scented Candle makes you feel like you're wrapped in your coziest sweater during a chilly walk in the park. Watch the autumn leaves fall as the scents of sweet maple and warm autumn spices in this soy candle provide a comforting smell throughout your home. This is the cozy candle of your dreams.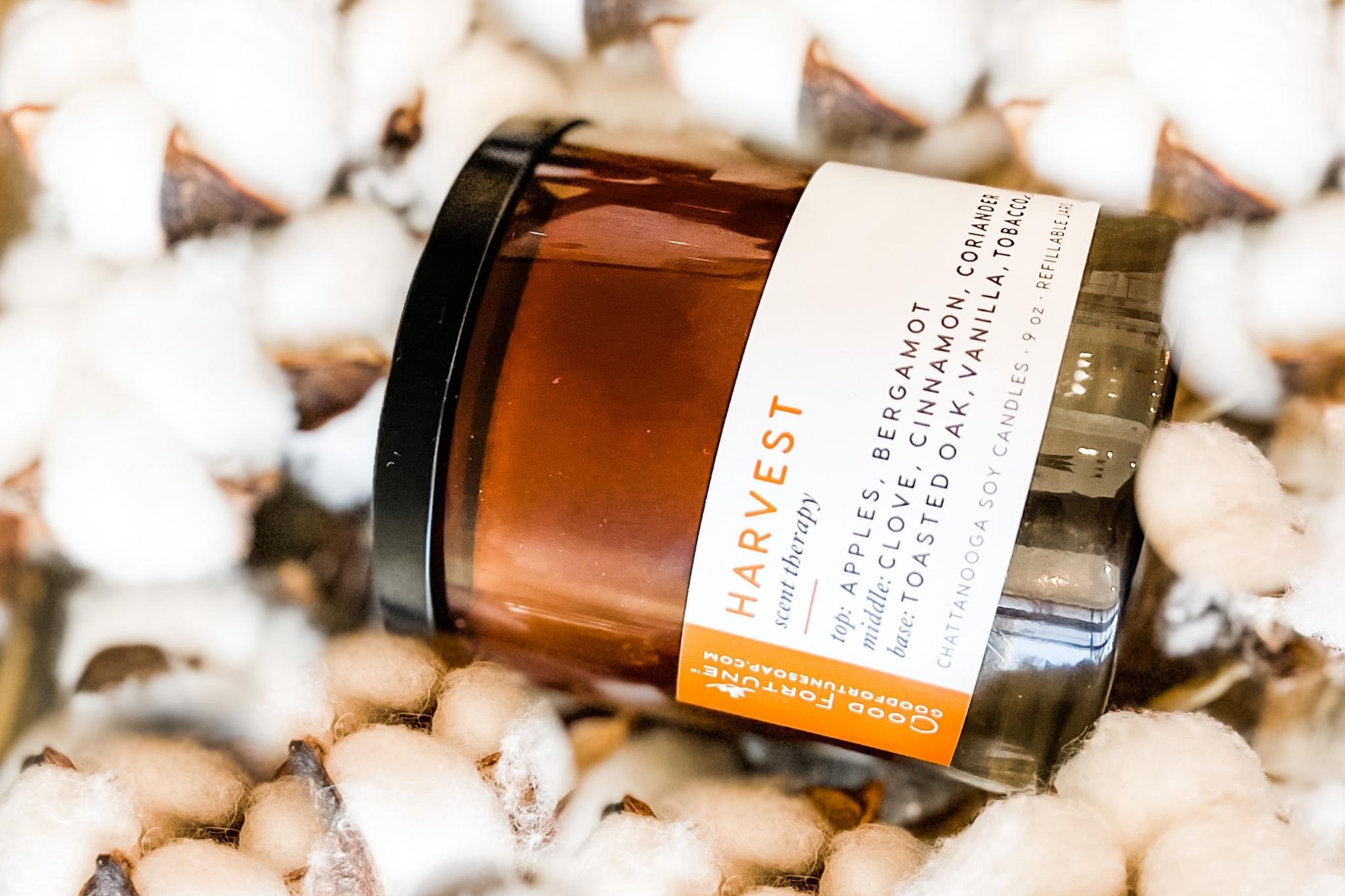 A comforting blend of sweet apples and bergamot beautifully mixed with spicy clove, cinnamon, and coriander completed with base notes of toasted oak, vanilla and tobacco.
Unbridled Soy Candle:
For a limited time, get a free Sweet Spice Soap Bar with every Unbridled Scented Candle.
Bring the sensual scent of this soy candle into your home and feel like you're dancing the night away in Havana. Deep and strong, the Unbridled scented candle is rich in leather fragrance and will set the mood of date-night and make you and your home feel luxurious and sexy.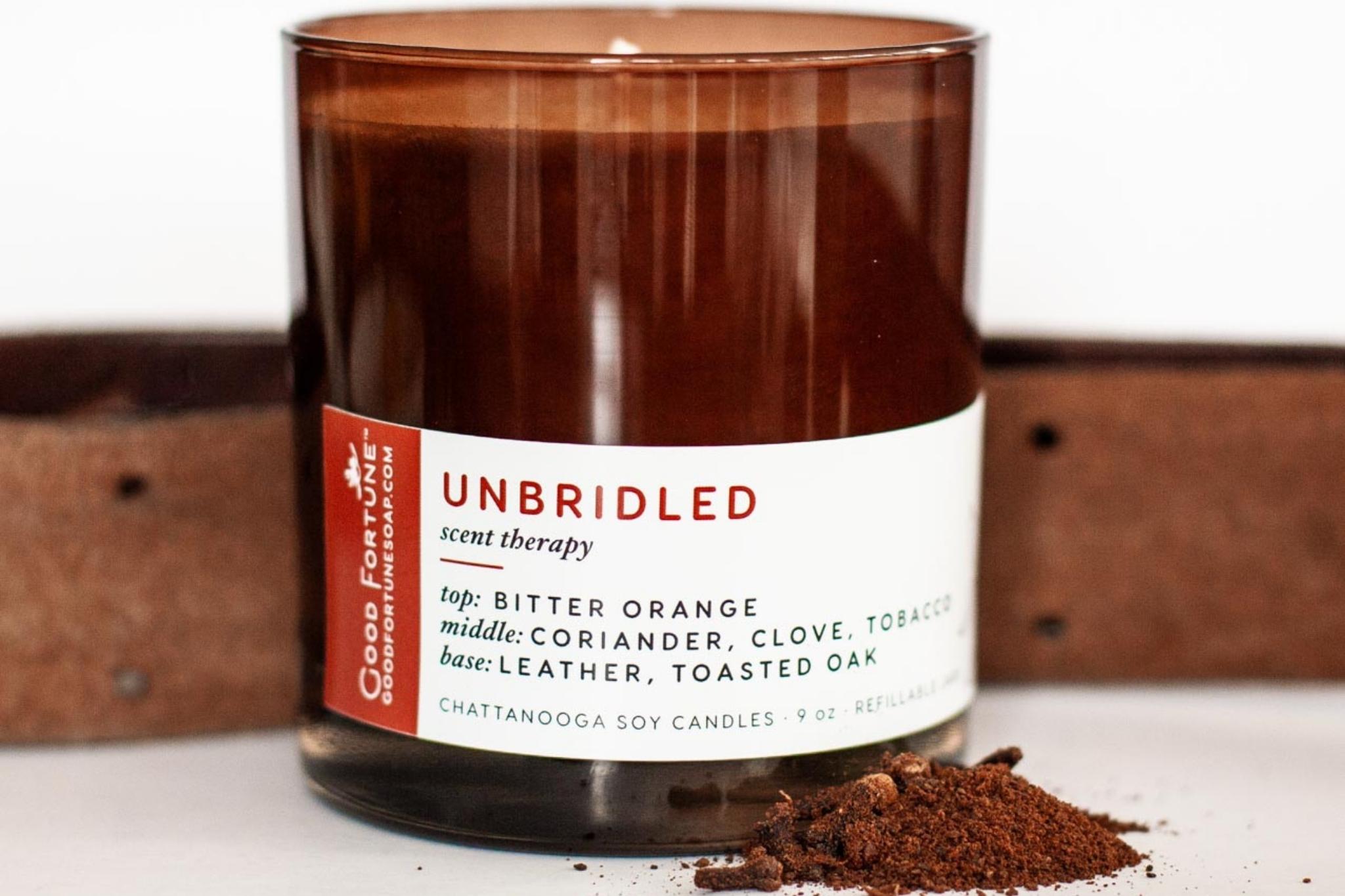 A lavish blend of bitter orange beautifully mixed with rich coriander, clove, and tobacco completed with base notes of leather and toasted oak.
Tuscan Mountains Soy Candle:
Take a luxurious trip to the mountains while sitting in your living room. Our Tuscan Mountains soy candle makes you feel like you're on a weekend excursion to a cozy cabin in the woods. Grab your blanket and your hot apple cider, this scent will make you want to cuddle-up for the rest of the evening.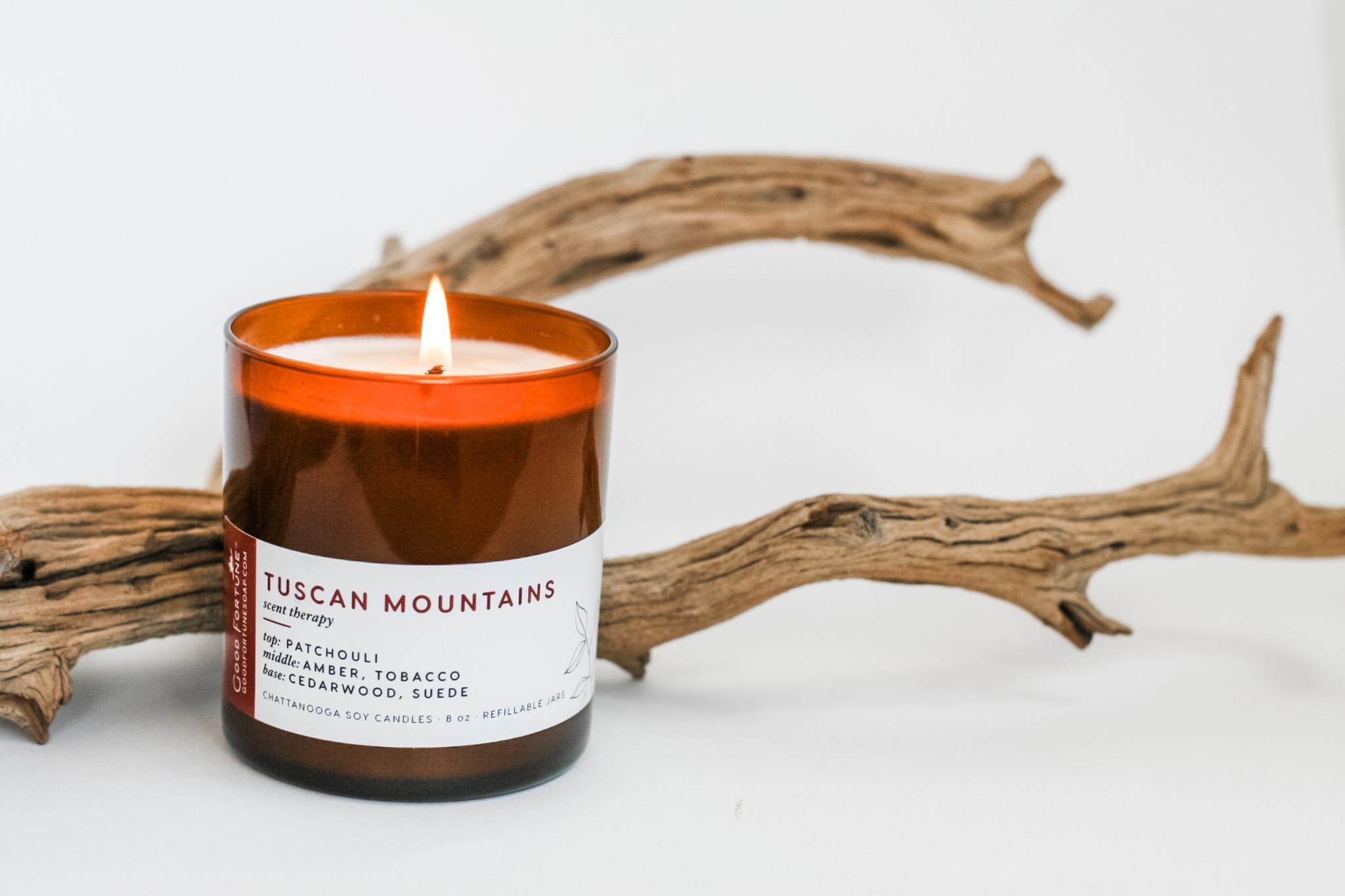 A rich blend of patchouli beautifully mixed with warm amber and smooth tobacco topped off with base notes of cedar wood and suede.
Make A Candle:
Get creative and make your own Fall fragrance at our Make-and-Take candle bar! Recreate the smell of a yummy Pumpkin Spice Latte, a backyard bonfire with friends, or leaves falling from the trees, the options are endless!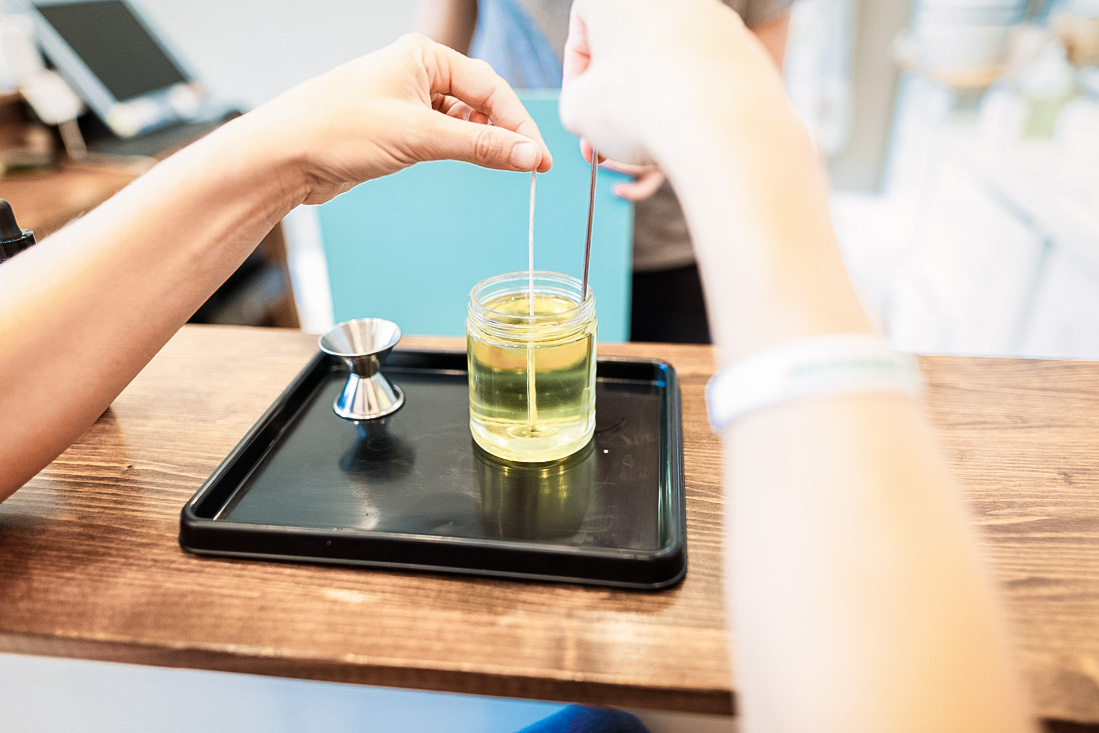 During this laid-back candle-making experience you will create your own scent and a mixologist will serve you warm wax for you to make your own candle. You also get to name it.
You deserve to invest in natural soy candles, especially when they help make your house a home!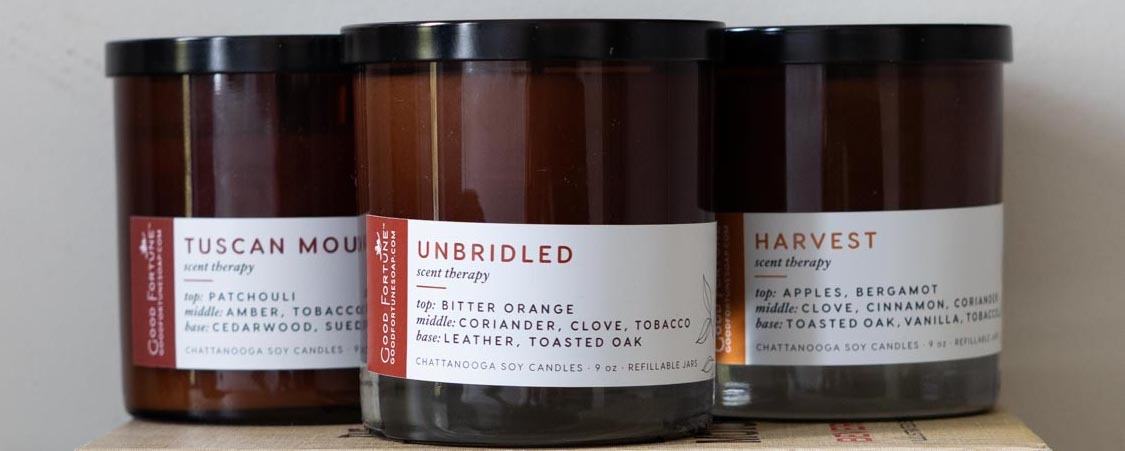 Be sure to grab your hand-poured candle from Good Fortune next time you're in town or shop all of our soy candle collections online!