Free aromatherapy and hot towels with every massage or facial? Yes please!
Here at Good Fortune Soap and Spa we are passionate about pampering our customers so we are extremely happy to announce that our spa services have been updated. We have new massages and facials on our menu, new staff, and new equipment all to make your spa experience even more amazing! Let's take a deeper look.
New Spa Menu
Facials
We now offer an even wider range of facials that are beneficial for all skin types and all schedules. Our appointments are tailored to your skincare needs including firmness and texture, signs of aging, enlarged pores, hyper-pigmentation, dry or oily skin, and acne.
If you're on a tight schedule but your skin is crying out for help, book one of our Express Facials: Express Pumpkin Peel Facial or Express Rose & Honey Facial.
Our signature facials are catered more to your needs than ever before. Men, you now have a facial of your own where we'll address your skin concerns and provide deep cleansing and ultrasonic exfoliation to help those areas affected by shaving.
Classics never go out of style, and our Organic Nutrition Facial is no exception. It includes steam, a mask, and a massage. In addition, we now have six Clinical Facials available to you! Whether you want to restore and balance your skin with a Balancing Enzyme Facial, get that dewy glow with a Vitamin C Facial, or go full strength with a Chemical Peel, our Chemical Facials are better than ever.
We can't forget about add-ons! You can now choose from seven add-on options including new dermaplaning which is an advanced exfoliation technique by removing facial hair and the new Décolleté Peel that targets anti-aging in your neck and chest.
With these add-ons and new facials we have been able to have a more advanced tool set, making your experience as effective as possible. Plus, when you schedule your appointment you may be able to meet our newest esthetician!
Don't just take our word for how incredible our facials are. Hear what one of our customers had to say:
"I saw Melody for an organic 60 minute facial. It was fantastic! I have extremely dry and sensitive skin and she was very knowledgeable. I have been using the products she suggested for about a week and my skin is glowing. This is a relaxing, cute shop with a great vibe. 10/10 I will be back!"
-Ahnna S.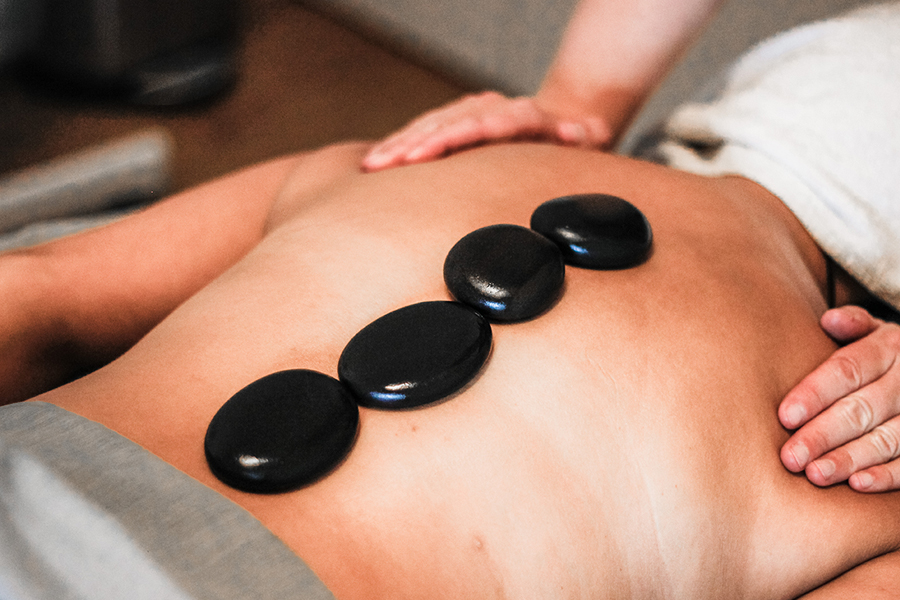 Massages
Treat your body, soul, and mind with our new massages. You will be able to book our well-known Relaxation Massage as well as our Deep Tissue Massage, but you can also experience our new Hot Stone Massage. The Hot Stone massage is extremely relaxing due to the heat from the stones being strategically placed and relaxing your muscles which allows for the therapist to massage deeper into their layers.
If you are an expectant mother, no worries, we have something for you too-- Prenatal Massage!
In addition to these therapeutic massages, we now offer eight add-ons. Pick from soothing services like a Sinus Massage, Hot Oil Scalp Treatment, or CBD Oil, Hot Stones, Cupping, or Foot Scrub. Or you could go with a more relaxing option like mini Deep Tissue Massage or an additional 30-60 minutes! You can't go wrong with any of these add-ons, there is something for everyone and every need!
As though new services weren't enough, we have new state-of-the-art tables in our newly renovated spa rooms. Since adding a third spa room we have been able to open the calendar and allow for more appointments. So if you feel overwhelmed by a busy schedule, rest assured we have a space for you!
Packages
To top it all off we have a special offer for you! When you buy a 3-pack Relaxation Services, Therapeutic Massages, or Clinical Facials you can save $25. Plus we have new Spa Day Packages for all ages. You can get 30 Min. Relaxation Massage, 30 Min. Express Facial, and Make & Take Bodycare Experience with the Mini Spa Day. Or you can make memories with your significant other and book a Couples Spa Day where you will have a 1 hour relaxation massage with cupping as well as creating your own candle. Also, if you need a GDO (Girls Day Out) we have a spa day package just for the ladies!
So what are you waiting for?
With new therapeutic spa services, new state-of-the-art tables, new tools, and new spa packages there is so much to experience at Good Fortune Soap and Spa. Book your appointment with us today.
Did we mention, new clients receive $5 off each 1-hour appointment booked that day. Just call us at 423.473.6727 and mention this promotion!
See you soon at your favorite spa in Chattanooga!